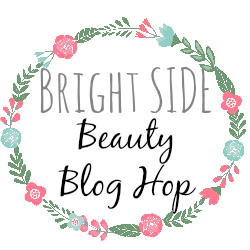 You may or my not have noticed that I've been a bit design happy, and it's the second time I've changed my blog design in the last week or so.
I promise, I completely love this new feminine floral blog look, and it soothes my Spring fever brought on by the single digit weather we've had here in Ohio. Blah!
Anyway, I won't be changing it any time soon, unless it's adding to the overall theme.
In addition the the new design, I have a new button! Feel free to replace the old with the new, or keep the old one if you'd like. I will also be making the blog hops a little fancier, I hope you all like :)
If you are a new follower from my blog hop and I haven't returned the follow, I am so sorry! Sometimes it's difficult keeping up with things but if you leave me a comment below I will follow you back. Thanks for your patience/understanding.
I have also finally joined the Google+ ranks and have a new profile there. I'd love for you to, add me to your circle? I am still learning the ropes there so forgive me, I think that's what Google+ is about? I'll find out soon enough. Bare with me :)
New posts to come: Lorac Pro Palette, Pixi Concealer, and more.